Perfect Inventory Manager
Inventory Management Software that allows you to manage your invoicing and inventory on-site. Update your stock information, make purchases, and view sales data from anywhere whether in the office, at home, in the warehouse, or on the go.
Manage multiple warehouses with Our Inventory Manager and Advance reports for annual overview chart, stock value chart, Daily and Monthly sales calendar, Custom sale and purchase reports, and product alerts.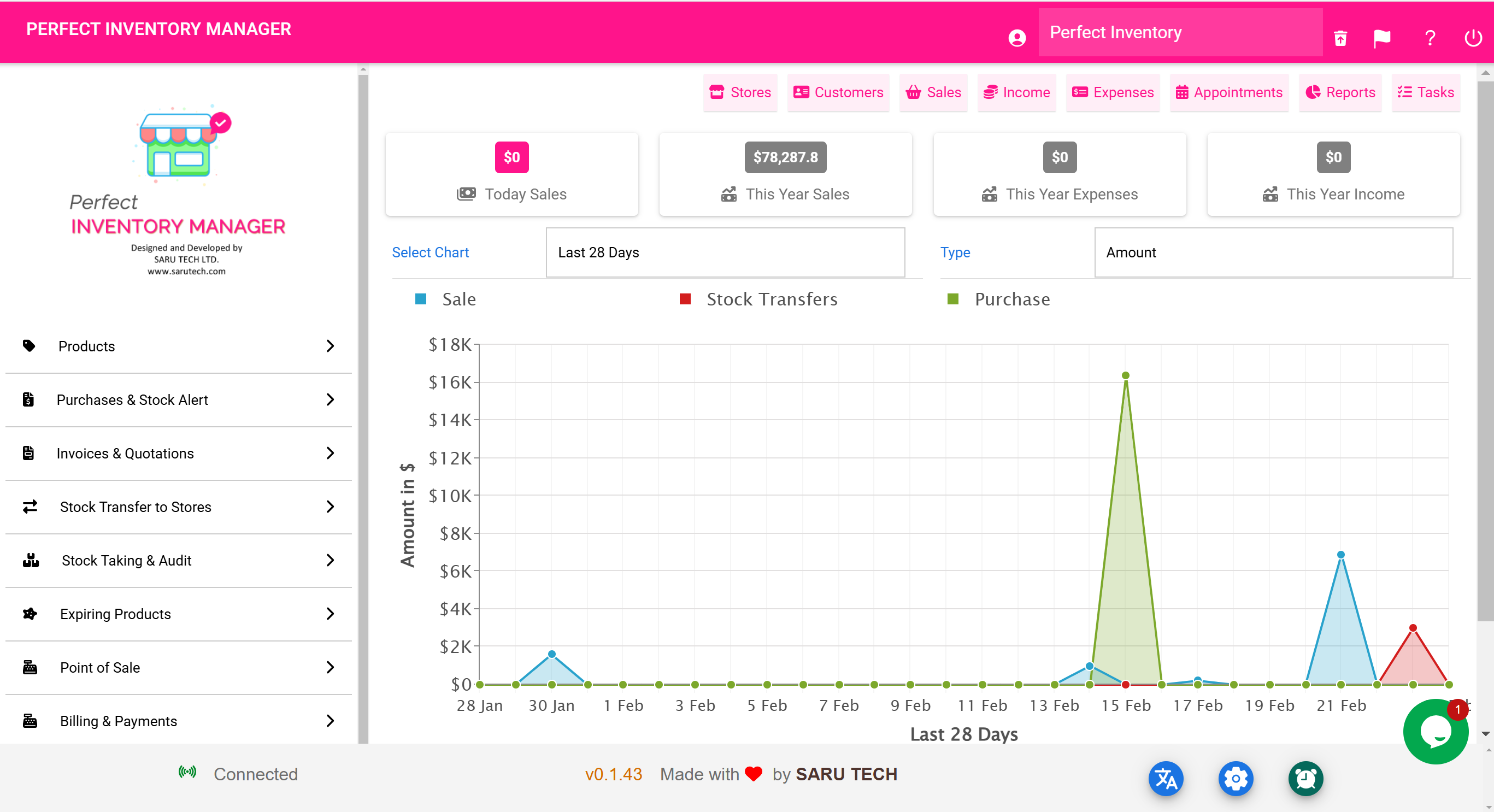 POINT OF SALE SYSTEM
Cash register system that stores product information, making the checkout process quicker. Print out receipts, hold sales, accept return or edit sales.
Advance Point of sale system
Easily search through products/services and add them to the cart
Suspend items on the cart and Finish Later
Advance Calculator to assist with your arithmetics
Email Customer their Receipt
Print Receipt for Customer
Find Items under Category
Easily add new product or service from the POS Page
Add Expenses from the POS page
Take note of balance payments
Add other specific information pertaining to that sale.
Return Items back to the shop and update the sales
Add a customized message on your receipt
Customize the system currency
Clear Products on the cart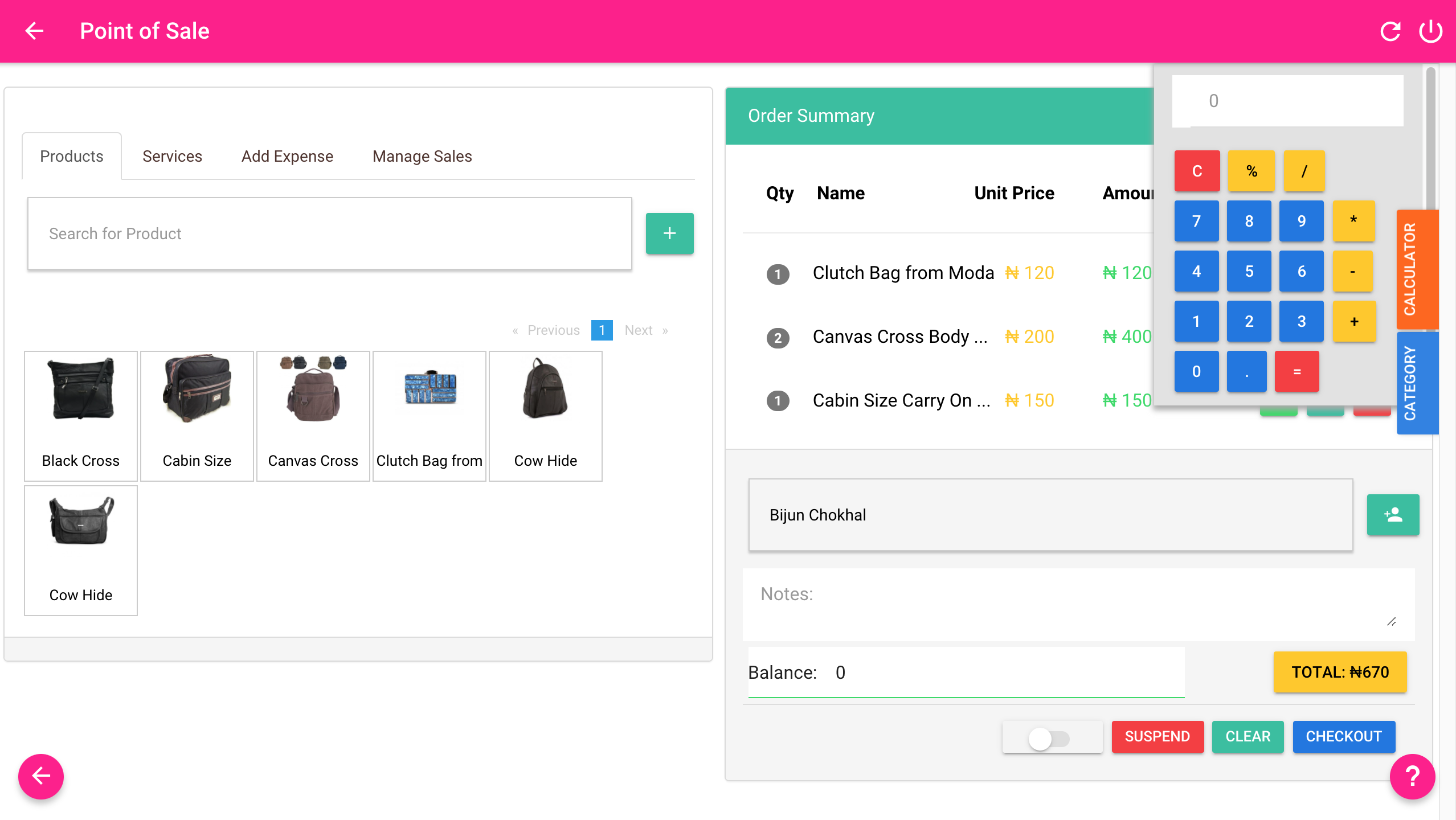 INVENTORY MANAGEMENT
Manage your purchases: Our detailed purchase system allows you to update your stock every time you make an additional purchase of a product. You can then set the cost and selling price, quantity, and expiry date for that particular purchase. You can also manage your supplier list to keep track of the name and phone number of suppliers of each product.
Automatically manage your stock: Get an alert when your products are getting out of stock. you can determine the minimum amount of each product before they show up as out of stock
Manage Product Expiry: If your product has an expiry date, You can set the expiry date and the number of days before the expiry date, the product should show up as expiring.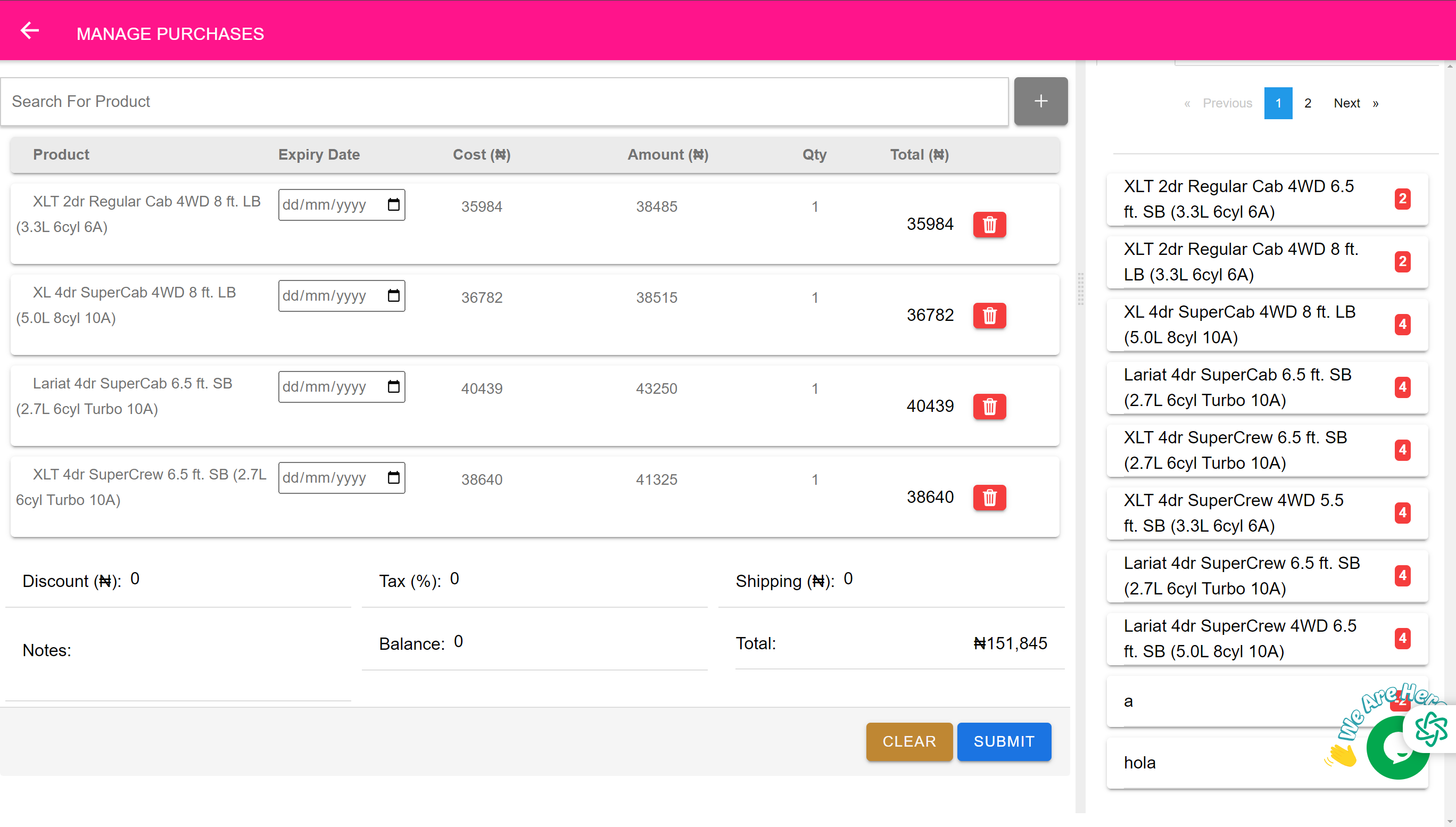 CALENDAR
Beautiful and Easy to Use Calendar for your business.
Easy Add and Edit Appointments or Events by clicking on the calendar
Drag / Move Events from one date to the other on the calendar.
The calendar comes with 3 Views
Month View - For viewing all appointments and events for the month
Week View - for viewing all appointments and events in a week
Day View - For detailed viewing of events in a day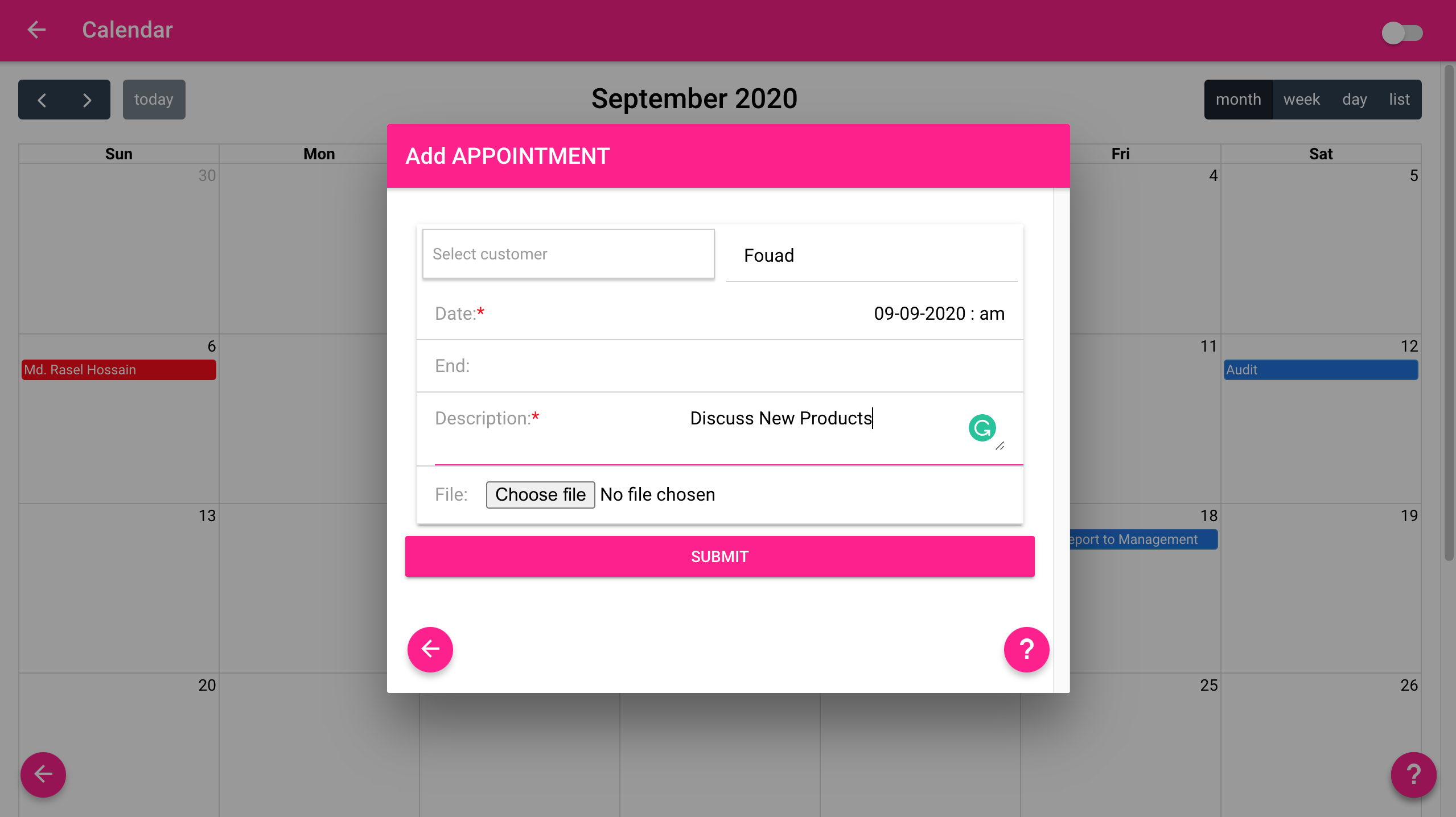 REPORTING SYSTEM
Intelligent and Customisable reporting and charting system.
You can report on each part of your business: Customers, Sales, Expenses, Incomes, Events, Appointments, Profit, Purchases...
You can visualize more than one item on the same chart and compare them.
Product Specific Chart: You can report on a specific product, or compare the performance of two different products on a chart.
You can how the chart summarizes your data: Sum, Average, Maximum or Minimum
The Charting system can display your data as a
Line Chart
Area Chart
Bar Chart
Pie Chart
3D Pie Chart
You can get a summary chart on different views
Month View will give you a summary for each month of the year
Hour View will distribute your data for each hour of the day. you will then know which hour of the day you have more sales and can make more informed decisions like hiring more sales staff for that time.
Date View gives you the summary for each day
Day View will give you a summary of each day of the week. You can then see the days in which you have more sales or more events, appointments, customers...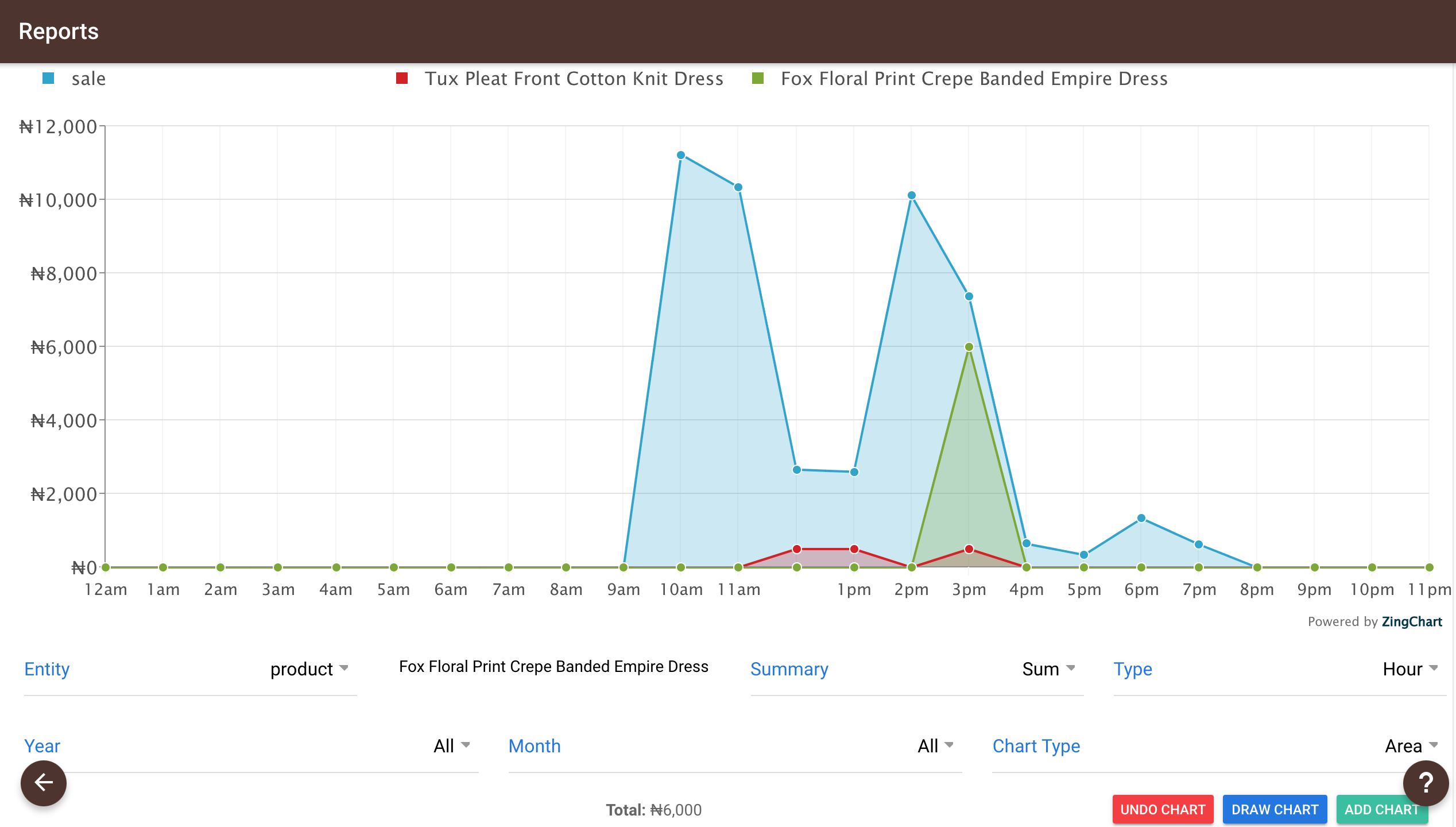 TOOLTIPS AND HELP SYSTEM
To help you and your staffs get accustomed to our software, We have inbuilt tooltips on the app pages when adding items. these tooltips explain what each field does.
We also have a help button on the bottom right of each App page that links to our documentation which explains that page features in great detail.
APP PAGES
The App comes with Numerous App Pages: Customer, Product, Category, Appointment, Event, Income, Sale, Purchase, Services, Staffs
Download your data for each page in CSV format to use for other systems, reports, or as a backup
View your pages in three different modes
Grid View: This allows you to view your data in grids.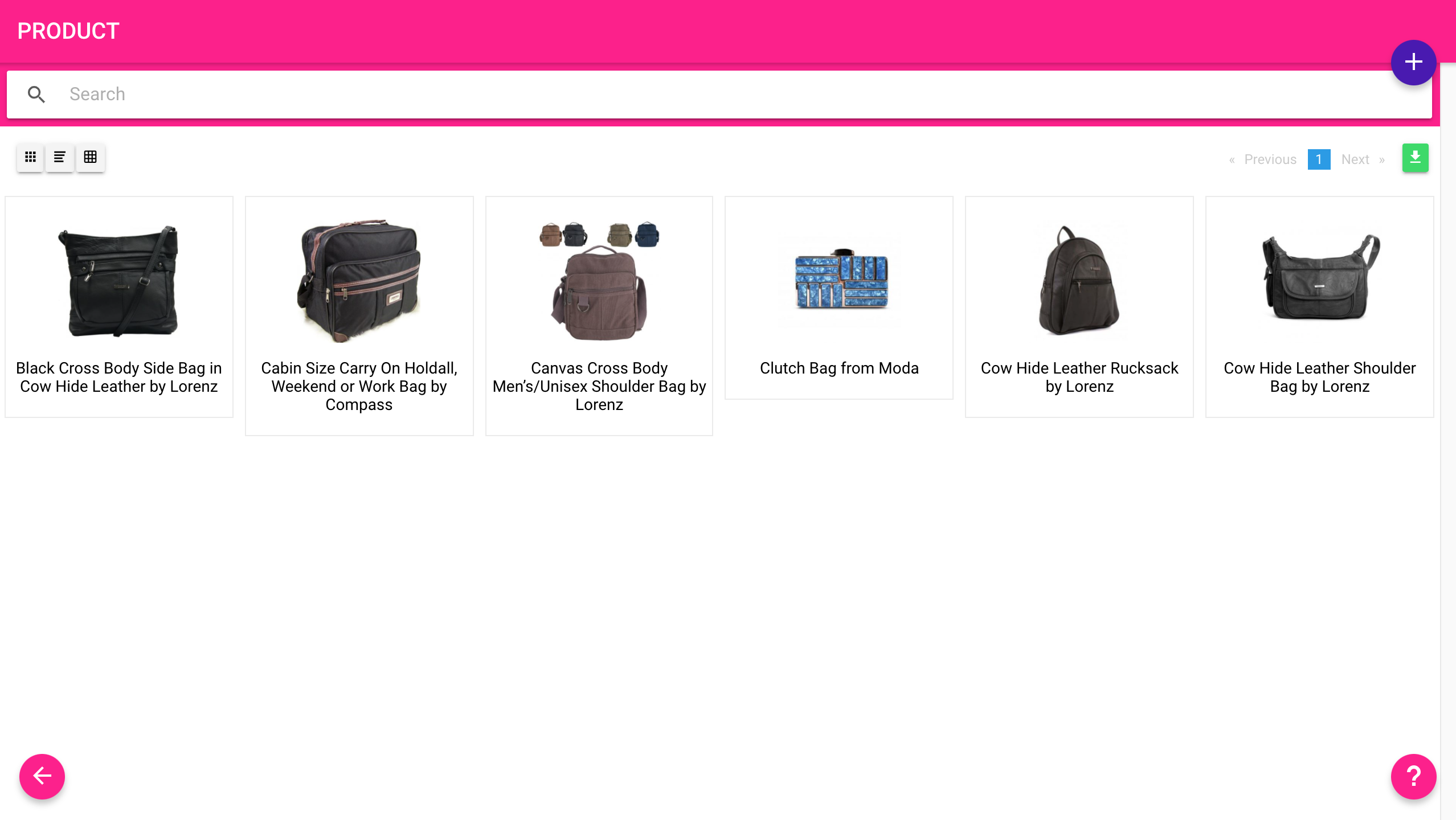 List View: This allows you to view your data in a list.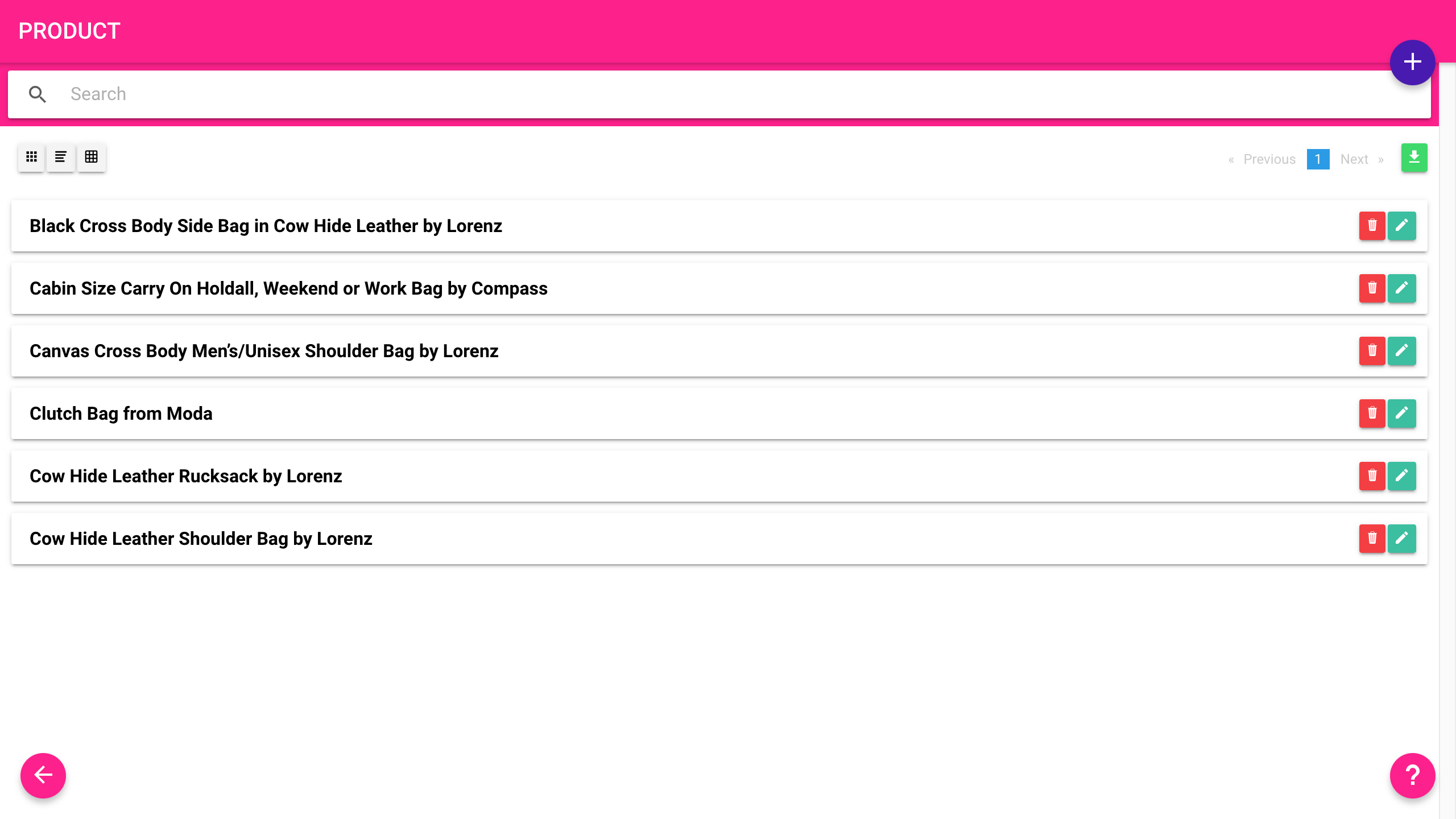 Spreadsheet View. This gives you an excel-like page where you can make bulk changes to your data just like you do on Microsoft excel
CUSTOM PAGES / CUSTOM FIELDS FIELDS
* This offer is included in Standard License *
With this option you can:
Add additional fields or delete irrelevant fields in forms or pages.
You can reorder the item position in a form
You can add more app pages and menu items to manage more customized part of your business
You can manage how each page in the app looks (Grid, List or Spreadsheet)
You can manage what summary data shows on the home page
You can manage icons within the app and many other features
See the documentation on how to manage app fields
=> Managing App Fields
USER MANAGEMENT
Restrict certain pages to your sales staff by creating a separate user and admin account. You can specify what pages you want them to access
BACK UP AND SYNCHRONISATION
Your data is automatically backed up on the cloud as long as you have an internet connection. If you lose your system, you can always re-download the software and access your data to continue from where you stopped.
MULTIPLE DEVICES
You can use multiple devices on the same database as long as you have an internet connection. Your data will be automatically synchronized across all devices. Even if you are not with your computer, you can log in to our website to access your database.
We will also be publishing Android and IOS Versions for the app.
WORKS OFFLINE OR ONLINE
You can use the app fully offline, however, we will not be able to back up your data in case you lose your system and hence we would advise you to do a manual backup regularly by downloading the data you want in CSV / Excel format